FREQUENTLY ASKED QUESTIONS
FAQ – Frequently Asked Questions
Can I do small electrical jobs around the house myself?
Definitely NO!!
In South Australia it is illegal for anyone but a qualified electrician to do any domestic wiring or house rewiring. Even if the work has been done to standard it will not pass certification which is bad news especially if you need to sell the property. It makes sense for safety to hire a qualified electrician to carry out all your household wiring. You also risk your personal safety and the safety of your family and friends.
What factors do I need to consider when choosing a ceiling fan?
A few factors to consider when choosing a ceiling fan are:
Where it is to be installed
The size of the room
Is there need for a fan which includes a light
The room decor
Blade performance needed
The location of your house
Is a remote control fan needed.
When should I have an Electrical Safety Check?
You are purchasing a property that has been occupied
The property is more that 25 years old
If it is more that 5 years since one has been done
If you are concerned about how any of the equipment may have been installed
Contact Us to organise an Electrical Safety Check.
What sort of documentation should I receive from the electrical contractor when the work is finished?
You should receive a final invoice together with an "Electrical Certificate of Compliance" which details the work undertaken by the electrical contractor at your home. This should be provided within 30 days of the completion. This should include signatures, electrical workers licence number & the electrical contractor licence number. This acts as your guarantee that the work was completed by a licensed electrical contractor. In the event of a fire your insurance company will ask to see this.
How do I know if the Electrician holds an Electrical Contractors Licence?
Ask to see their Electrical Contractors Licence,
Visit Consumer and Business Services – www.cbs.sa.gov.au/occupational-licensing-and-registration/find-a-licence-holder/. – Search for an occupational license holder – Select License type – choose Plumbers, Gas fitters and Electricians –
License Name – enter surname and first name – or company name  or the Trading name of the business – Response should show the following " Electrical Contractors License – Can contract for any electrical work"
How do I know if the Led Lighting that is being installed is" Australian Approved"?
It is a requirement for all Led Lights with drivers ( power supplies) that are separate but (connected to the fitting via a cord) to have an "Australian Safety Approval" This will be in the form of a triangle with rounded edges with a circle and tick inside it. This approval says that the driver has been tested and is certified for use in Australia. It is an offence for any electrician or householder to install an Led light where the driver does not have an Australian Approved Driver. Insurance could be voided.
What other electrical Items are Proclaimed products that are required to have been safety tested in Australia and approved for use in Australia?
Appliance Connector , Bayonet Lamp holder, Bayonet Lamp holder adaptor, Cable – Building Wire , Cord Extension Socket, Cord-line switch, Decorative Lighting outfit, Double capped light omitting semiconductor lamp, Fluorescent lamp ballast & starter, Luminaire ( portable type), circuit breaker, Residual current device, Outlet device, Plug, Power supply or charger, socket outlet ( power point), supply flexible cord ( extension cord), wall switch ( light switch)
https://www.sa.gov.au/__data/assets/pdf_file/0013/152311/151002-Examples-of-proclaimed-products-with-approval-marks-fact-sheet.pdf
How do I recognise that a proclaimed product has been safety tested in Australia and has been approved for use in Australia?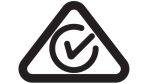 Products should carry the Regulatory Compliance Mark ( RCM)  issued by a recognised Australian regulator or certifier.
https://www.sa.gov.au/__data/assets/pdf_file/0020/151832/Recognised-Australian-electrical-approval-marks.pdf
Is it safe to buy electrical products or appliances online or from overseas?
Unless you have experience assessing electrical product safety conformance, it can be difficult to ensure the safety and certification of an electrical product you want to buy online
If you are going to buy an electrical appliance online, shop with a reputable Australian-based seller. Some sellers claiming to be located in Australia may be based overseas, so check their details carefully before buying anything. Just because a seller has good online feedback, it doesn't mean their products are safe.
Before buying, ask the seller for details of the electrical product's Australian safety approval – request a copy of the Australian certificate of approval, and check that the certificate details match the product's markings and specifications
Buying or using electrical appliances from overseas is not recommended, even if they are safety certified by an overseas organisation, as they may not be safe for use in Australian conditions. Electrical appliances used in Australia should be tested and certified by a recognised Australian organisation because:
overseas products may not be suitable for or tested to our voltage and frequency tolerances
overseas product documentation (eg certification, test reports or declarations) may be fake or incomplete
you may not be protected by Australian consumer protection and warranty laws if something goes wrong with the product.
Professional – Experienced – Proven
Established 1984

We service all areas of Adelaide